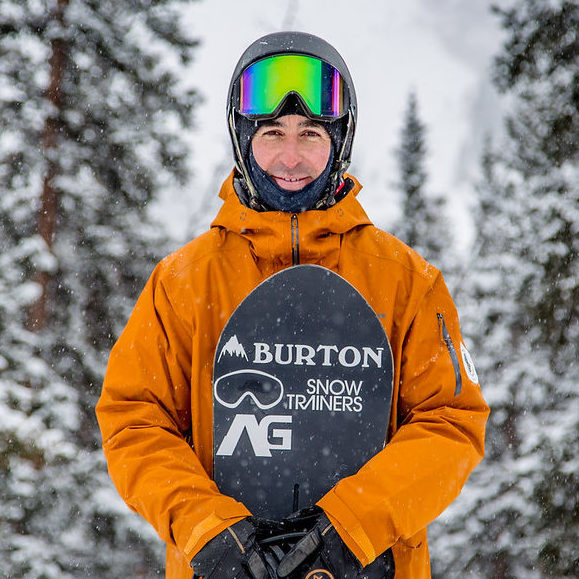 Tony Macri
Owner & Trainer
One of the most experienced and high level Trainers and Examiners around, Tony has been traveling the world in this capacity for more than 20 years. Tony has been a Senior Examiner in the SBINZ and AASI systems for more than 20 years, running Level Threes, Trainers Certs, Freestyle Exams.
When he isn't examining Tony is busy with his own company Snow Trainers. Tony has been on several SBINZ Tech Teams and several AASI National Teams going to represent for both counties at the international Interski events. Tony has also authored the AASI Freestyle Manual and co-authored various aspects of the SBINZ and AASI technical manuals. Tony gets his greatest sense of achievement watching the snowboarders he has trained become Trainers and Examiners alongside him.
Tony's credentials and accomplishments:
Owner and Director of Snow Trainers Inc.
3-Term PSIA-AASI Snowboard National Team Member and currently the PSIA-AASI Snowboard National Team Development Coach
2-Term SBINZ Tech Team Member
PSIA-AASI Rocky Mountain Level Three, Freestyle, Trainers Examiner (AASI's highest level)
SBINZ Level Three, Freestyle, Trainers Examiner (SBINZ's highest level)
PSIA-AASI Rocky Mountain Freestyle Co-Chair
PSIA-AASI Chairman of the Freestyle National Taskforce
Author PSIA-AASI Freestyle Technical Manual
Contributing author AASI manual, SBINZ manual
Currently riding for Burton, Anon, The North Face, Swany gloves, Phunkshunwear, Powerbar Sport
Tony has been skiing since 1990 and snowboarding since 1998. After getting his qualification in the US, he visited New Zealand for the first time and spent four years at Whakapapa training instructors as well as coaching the North Island's first freestyle Development squad. He then moved to the South Island to train instructors at Treble Cone and after three years he finally settled at Coronet Peak where he currently co-manages and trains the Snow Trainers crew.
Tony spends his Northern Hemisphere in Colorado USA where he manages the Snow Trainers courses at Copper, is an AASI RM Examiner, and a PSIA-AASI Snowboard Team Coach.  Tony has also worked in many different facets within ski and ride schools such as Training Manager, Youth School Manager, and Snowboard School Manager.
In NZ Tony has been a Snowboard examiner since 2000 where he examines Level One, Two, Three and Trainers Cert.  He is also a snowboard Freestyle Examiner, and a Childrens Cert Examiner. In 2011 he was chosen to represent New Zealand on their demo team at INTERSKI in St. Anton, Austria and in 2015 he represented New Zealand again at Interski in Ushuaia, Argentina. Over the years Tony has been involved with many integral projects with SBINZ from helping develop resources such as the manuals, and creating new certifications and exams. Tony has also served many years on the Snowboard Divisional Committee.
Most people don't know that Tony used to compete as a Freestyle Bumps Skier when at university in the States. Tony is also a fully certified ski instructor and has his freestyle accreditation.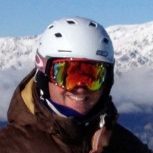 Doug began skiing in 1979 and snowboarding in 1992, then started teaching skiing in 1995 in Pennsylvania. He spent two years working on the east coast of the U.S. attaining his level 1 and 2 skiing certifications. After the end of his second season he moved to Colorado and began teaching skiing at Keystone Resort in Summit County, Colorado.
While at Keystone, Doug attained his skiing Level 3 certification, Resort Alpine Trainer and Resort Freestyle Trainer accreditations and held many positions within the Ski & Ride School which included Children's Supervisor and Private Lesson Supervisor.
Following Keystone Doug spent and few years at Breckenridge as the Children's Ski & Ride School Manager, and then in 2010 took the position of Snowsports School Director at Teton Pass Resort in Montana. While in Montana, he attained Examiner Status for Freestyle and Alpine in PSIA Northern Rocky Mt. Division.
He currently instructs at Beaver Creek Snowsports School and Arapahoe Basin Snowsports School.

Long-time Examiner, Education Staff Verifier, and Alpine Committee member for PSIA-Rocky Mountain, Bob's full-time ski instruction career began the season he arrived at Breckenridge, Colorado in a blizzard in his ancient Ford van with one snow tyre. Living in the van in the ski area parking lot that winter, skiing and teaching skiing by day and fitting rental skis in the evenings, Bob developed the passion for the sport and the teaching profession that still drives him today (although he has long since moved indoors to an actual house, much to the approval of his wife, Susan). Currently working at Copper Mountain in Colorado, Bob has also taught skiing (and one snowboard lesson!) full-time at Keystone, Arapahoe Basin, and Vail, as well as Breckenridge and two seasons at Eaton Mountain in his home state of Maine.
Bob is the author of The Complete Encyclopedia of Skiing, the third edition of which was released in 1999. He has coached for the Mahre Training Center at Keystone, and served as the founding Director and current Vice-President of the acclaimed EpicSki Academy, which conducts high-level ski camps at top resorts across the United States.
As the developer of many of the current training and certification educational materials for PSIA-Rocky Mountain, Bob brings a wealth of innovation and "inside information" to the table as a resource for all seeking PSIA certification.